Our Brand...
"What a beautiful world we live in, where both flowers and jewellery exist"
By Imogen Rose Jewellery is 100% handmade in a small coastal town on the edge of the English countryside in North Devon, South West England. At By Imogen Rose, we specialise in using recycled precious metals and natural gemstones that are carefully curated to create simple, dainty and stackable jewellery. All of our jewellery is made in small batches, so it may take a little longer for your pieces to arrive but, you're buying into a sustainable and conscious, ethical way of manufacturing a handcrafted piece of jewellery to treasure for years.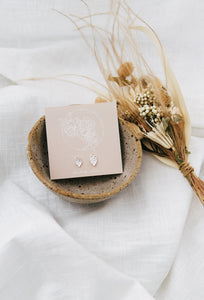 INSPIRED BY THE ENGLISH COUNTRYSIDE
"For the last year we have spent most of our days in the comfort and perimeter of our homes and truly embracing the time we have been able to spend outside, something we take most for granted. Our 2021 collection has been born out of a period in time where our gardens became our closest companions and the feeling of fresh air on a sunny day has fulfilled our minds more so than ever before. We're very lucky to handcraft our jewellery in the Devon countryside, where falling leaves, floral blooms and the smell of nature surrounds us all the time. Thus being the most predominant inspiration for our newest pieces for 2021. Not only do these pieces reflect our brand the most, but also a period is this lifetime where the natural world has lifted us up and kept us going."
Imogen Rose x